The University launches a one-of-its-kind Psychometrics Testing Center
March 1, 2023
2023-03-01 22:15
The University launches a one-of-its-kind Psychometrics Testing Center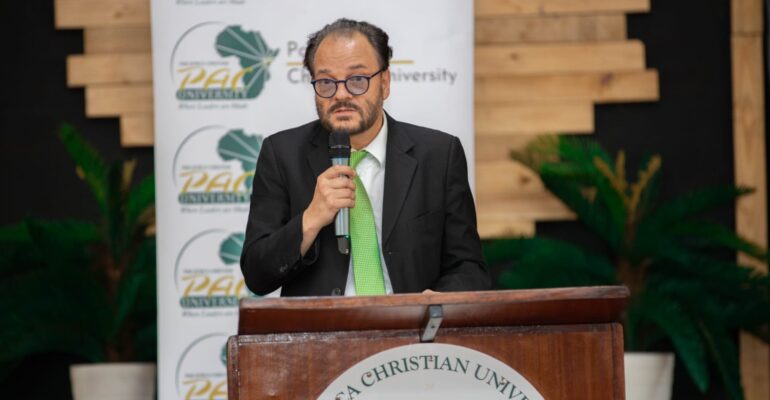 The University launches a one-of-its-kind Psychometrics Testing Center
PAC University launched a Psychometrics Testing Center on Wednesday, March 1, at the Thika Road Campus at an event that was presided over by Dr. Christian Fellner, Ambassador of the Republic of Austria to Kenya, and Mr Gerald Schuhfried, Director of the SCHUHFRIED Company.
This comes after the signing of an MOU with SCHUHFRIED, an Austrian-based company known for its digital products and services in the fields of psychological assessments, to provide it with technological infrastructure for various psychometrics tests of the Vienna Test System (VTS).
The University is the first institution in Africa to open a psychometrics testing center that uses VTS from SCHUHFRIED, which has a presence in over 68 countries around the world.
According to Prof. Margaret Muthwii, the Vice Chancellor, PAC University plans to incorporate Vienna Test System into its curriculum to provide Psychology students and faculty with psychometrics testing and related research skills. She also added that the Psychometrics Testing Center will open its doors within a month for commercial-based professional services in a variety of fields, such as driving fitness tests, clinical neuropsychological assessment, human resources hiring, sports talent spotting and development of young players, and research in sports psychology, among others.
"In the current dispensation, universities must think beyond tuition fees and become more innovative in order to raise funds, and we are all about that," said Prof. Muthwii.
Tens of various leaders from organizations and institutions where psychometrics testing is critical such as the Kenya Police Service, human resources recruitment agencies, government parastatals, security companies, and other professional bodies attended the launch.